Details
Icy™ non-slip protection soles are definitely the first model of its kind designed for indoor and outdoor uses. Attach to virtually all styles of shoes and boots, these anti-slip soles provide an innovative solution to walk with confidence on icy and snowy conditions (also known as Snowshoeing), as well as on slippery floors. Easy to slip-on, Icy grips are built with ceramic pads to ensure stability and traction on slippery floors. With Icy™ anti-slip "crampons", you can keep them on when entering stores, bus and many indoor places. Moreover, Icy non-slip grips are really comfortable and easy remove. The compact format allows to easily put into a handbag or pocket.
The non-slip soles are also used to reduce slips, trips and falls in the workplace, as they can be included in risk management plans to protect workforce and companies. Some studies suggest that Icy™ anti-slip grips are an effective and cost-efficient tool to lowering workforce turnover, legal cases and costs. So, just get a grip!
To get the best experience from your Icy™ anti-slip grips, we recommend after using to wipe any excess snow and hang them up in a dry place.
Directions:
1. Place the front part of Icy anti-slip device over the toe of the shoes.
2. Pull the back part of the device over the heel.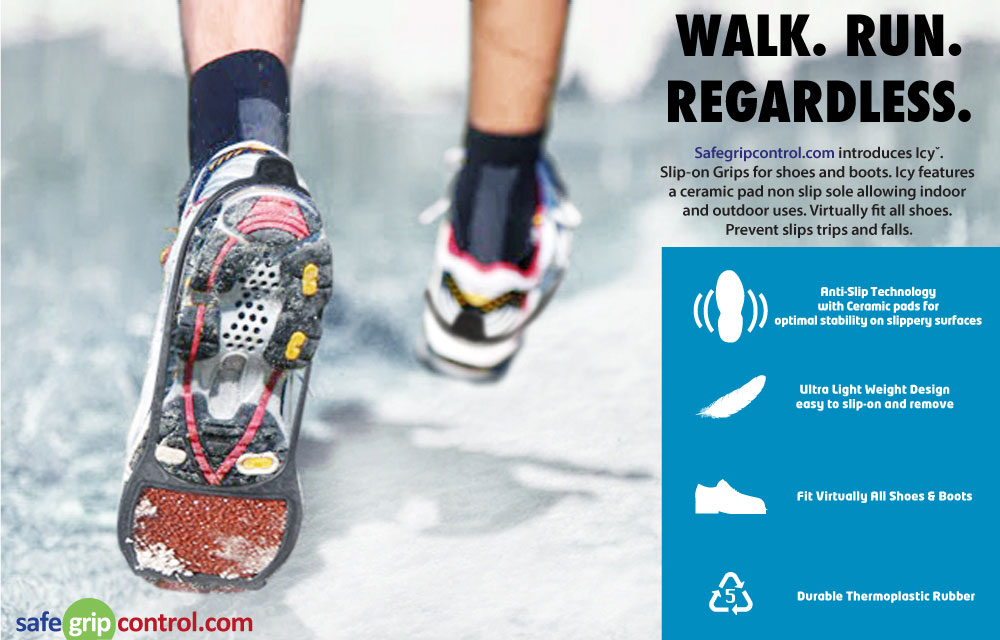 Customers Who Bought This Item Also Bought