Details
Worn or unworn, you need to protect your investment! We know how it feels the day you buy gorgeous designer shoes and suddenly notice a wear on the sole! What should you do? Call 911 and ask for emergency moral support?!
There is a better and more efficient way to preserving the all red look now! The Red Replacements Soles are definitely the ultimate solution to protecting your favorite shoes. Now you can take your CL shoes and walk on the cement ground without worrying about damaging the soles. The protective pads are made of high quality Vibram rubber (aka the best soles in the shoe industries) that will guard your red bottom shoes from scrapes and wears for a long-lasting use. It's the best match you can find for your red Christian Louboutin shoes. As "naked" outsoles tend be slippery at times, Vibram Rubber Protective Ultra Thin Soles offers a better footing, grip and comfort, as they act as shock absorption pads and provide added traction.
You can even use them on any other shoes you have to color up the bottoms.
How To Stick the Replacement Soles?
As a note, if you would like to attach the replacement soles in minutes, check out our DIY Replacement Sole Pack, which includes a pair of Vibram Rubber Protective Soles, a jar of touch up paint, as well as a brush. Having said that, the easiest way to attach Vibram soles to your shoes is to get your trusted cobbler to fit the pads for you and tell him to end the re-soling only on the arch on the bottom. An experienced cobbler will know what to do.
For best results, you can send us your shoes and one of our dedicated Louboutin team specialists will attach the soles for you.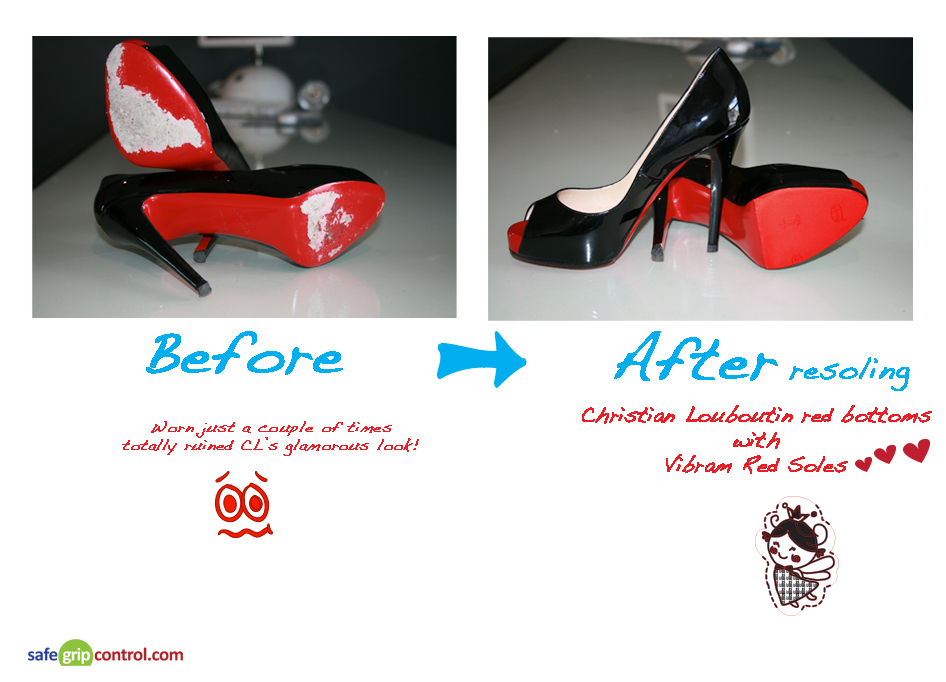 What Model Should I Choose From?
If you have stilettos, most you will need to use the half soles that will fit all shoes up to US size 11 (EU 41-42; UK 9). The soles are 1mm thin, for 10.8 cm (4.17in) in width, and 16.7 cm (6.57in) in height.
In case you have CL shoes for men, you will need to select the full sole model that is 23 cm (9.05in) in width, 30 cm (11.81in) in height for a thickness of 1mm.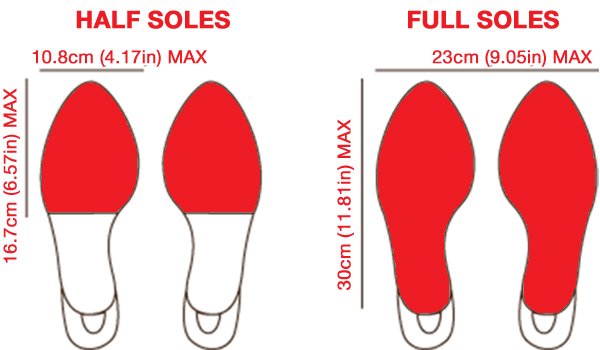 Customers Who Bought This Item Also Bought